A few years ago, I was describing to a guide in training how exciting ice hunting for geese in Colorado can be. He immediately looked at me and said "I'm not gonna buy that BS. Why would a goose land on plain black ice?"
We just so happened to have a hunt where one of our clients couldn't hunt in a pit because of his knees. We decided to hit one of our frozen lakes and set up shells and full bodies. There was incredible goose traffic over this particular lake and I was confident in our chances.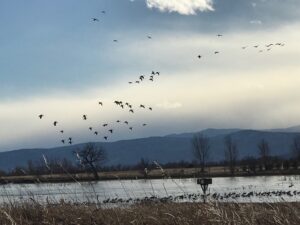 The morning flight got off the roost and headed out to feed. We're got a few looks but nothing committed. My "doubter" looked at me with a weird smirk on his face as if to say "see?" Boy, was he about to eat some crow.
At about 9:45, I spotted a flock that had the look of full bellies and wanting to get somewhere for a bit of relaxation. I was out on the ice at the time and began flagging. The flock turned immediately towards the decoys and committed. Another flock joined them, then another, and another, and again, another.  Put about 30 geese on the ice and waited, hoping the majority of the 1500+ geese overhead, would disperse so we could get busy on the landed geese without educating the others. After a minute or so of deafening goose noise, the best case scenario occurred. We told our clients to "take em" and 9 geese laid dead on the ice.
After a few more flocks, our 5-clients lined their 25 geese up for pics and we began to pick up. My guide, who really was an exemplary caller and regularly put clients on limits of birds, had a look of shock and awe in his face. He then asked, "So, when can I hunt here again?"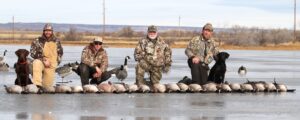 Why do geese decoy onto the ice after feeding? There are many explanations but the most logical one is that they want to relax a bit before getting back to the roost. You'll see birds on random ice, sleeping away and not having a care in the world. This is a much better option than heading back and competing for space with thousands of others.
While there have been geese shot on frozen lakes during all kinds of weather conditions, the best time is when the sun is out and the weather is warm. When weather is cold, birds usually want to get back to the roost ASAP to keep their open hole from freezing. Warm weather means birds can hang out a bit and relax.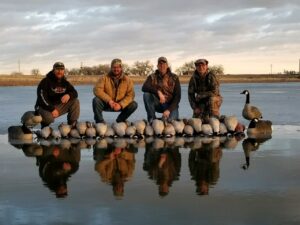 For decoy spreads, this is one time you can get away with lots of shells. The sleeper shells made by Dakota are excellent (https://dakotadecoy.com/product/x-treme-sleeper-shells/). Face them towards the sun and put in small groups. Put full bodies inside of the shells facing all different directions. A nice landing zone that is strategically placed for shooting is also important. It may take you a few times to get the set up you like most but it can be fun to play with various layouts. To save money, you can also buy a bunch of used decoys.
Mornings seem to be the best time for ice hunting geese in Colorado. After getting their Morning meal, birds will look to rest on the ice for a little bit before heading back to their roost. In the afternoons, birds want to get back to the roost before dark. They may even head back to the roost after dark.
Something of crucial importance is safety. Be sure to scout out your hunting spot to be sure the ice is thick enough. If it's cracking when you first get there in the morning, odds are it will be unsafe by the time you pick up. Don't take any unnecessary chances!
All in all, hunting the ice can be extremely productive and rewarding. Our guided hunts regularly shoot the ice and do very well. Check out our webpage for some info on guided hunts that can get you out on the ice for some goose hunting.