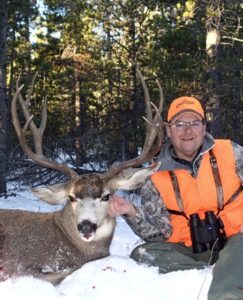 Whether you're looking for a trophy whitetail or a mule deer that could go over 200", our outfitters harvest incredible deer every season. Once again, if you have Preference Points, the likelihood of you getting a tag will increase exponentially. Our outfitters do get a number landowner vouchers so please get in touch.
Archery

($2000-$7500) – For the plains, an archery tag runs through Oct, Nov, and Dec but takes a few breaks along the way. The November season allows you to hunt in the rut. These are easy tags to draw so be sure to get your hunt booked and put in.

Rifle

($2000-$7500) – These hunts take place during the 2nd – 4th seasons in or the plains seasons, which traditionally run from the end of October until the beginning of November.